The ingot mould through spray type cooling make aluminium ingots through sufficient cooling and coagulation, by tapping the automatic ejection device will fall off aluminium ingots.
Ingot casting machine adopts linear (for more mature) in recent years, driving part adopts the infinite speed adjustment, stable operation, reduced the equipment of dithering phenomenon, demoulding tapping, adopting automatic demoulding high sex, ingot casting production efficiency is high, the ingot billet weight evenly, high degree of automation, low labor intensity, convenient operation, simple maintenance, etc.
Casting machine completely according to the existing national standards and standard manufacturing.

The system safe and reliable, low operation cost; Low pollution to the environment; It is easy to operate;

1. ingot Casting Machine production line is mainly used for automatic liquid distribution, stepless speed Regulation (can be used artificial speed regulation) to improve production efficiency, butt billet weight uniformity and other advantages.
2. the equipment is straight-line, the maximum processing speed 3t--4t/ h; capacity is the largest 9 Block/minutes, ingots weight 8-10kg/ blocks.
3. New independent research and development chain, greatly reduce friction resistance, reduce the burden of power systems, enhance mobility, enhance the mechanical life and other advantages.
4. according to the bearing weight calculation of the ingot machine, the driving motor selection 4KW AC speed control motor, speed control mode selected frequency conversion mode, stepless speed regulation.
5. Sub-liquid system: The use of dispenser automatic watering, distributor for a casting moulding, no gap.
6. Cooling mode because of ingots solidification fast, in order to keep the ingots surface smooth, using natural wind cold.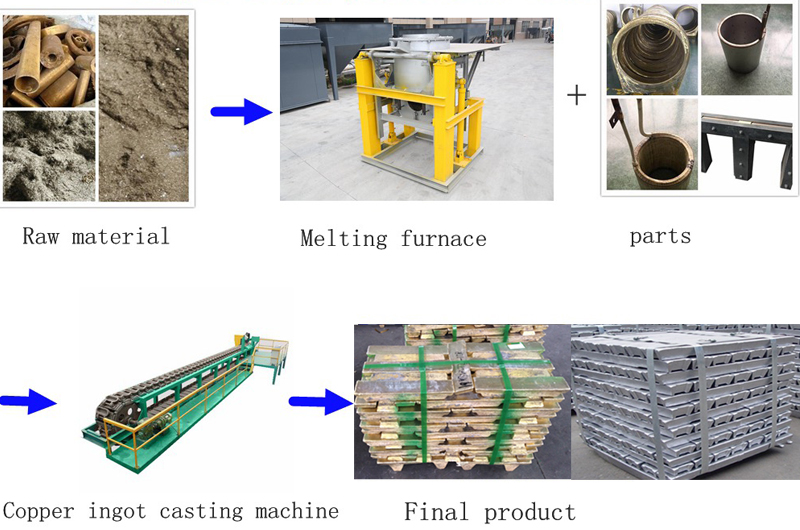 This machine is used with Brass ingot production line; Aluminum alloy ingot production line, Aluminum recycling plant.
Established in 1994, specialized in developing and producing casting copper machinery and equipment for more than 20 years. We have always keep innovation, high efficiency, energy saving and safety as our important production indicator .we can provide professional and complete production design according to customer's requirement, from factory resource allocation to machine's installation, debugging, machine operation videos and professional after-sale service steam, and can also provide qualified engineering technicians for machines installation and debugging overseas .
Nowadays our products have been selling to all around the world. The main areas are Africa (Algeria,Egypt,Morocco,South Africa,Tunisia etc.); Asia(Bangladesh,India,Iran,Pakistan,Turkey,Vietnam,Sri Lanka etc.); Europe(Russia,Poland,Spanish,Ukraine,Denmark etc.); North America(Mexico,Guatemala etc.); South America(Argentina,Bolivia,Chile,Peru,Venezuela etc.) and so on.
We with a professional engineering department which can provide you with a full range of solutions:
1.The brass/copper/bronze bar and brass/copper/bronze tube production line machinery
2.Ball valve/brass fitting production line
3.Door hinge production line
4.Brass lock/Padlock/key production line
5.Copper wire upcasting production line
6.Cabinet hinge production line
7.Ball bearing drawer slide production line
8.Brass/Aluminium ingots production line Machinery and so on.
More machinery working videos, please browses our YouTube Channel:
https://www.youtube.com/channel/UC15RHGKxg8E5SOgPXm_aNLA?view_as=public